President's Letter
Dear Valued Customer,

Our company began quite humbly in the 1930s as Pioneer Cap Company at a factory in Kansas City. Throughout the years, our family-owned and operated business has evolved, changing our name, adding additional brands, and speeding up shipping times.

Now a worldwide distributor from 16 North American suppliers, Sportsman Cap & Bag has more than 85 years of experience in the cap industry and continues to build upon a strong foundation, unique distribution network, and emerging opportunities.

We've maintained a focus on adaptability, quality control, and customer service, which in turn has built us a sustainable company. Today, we're proud to offer our clients a total of 23 top cap and bag brands, 348 styles, and over 3,000 SKUs.

Our founder, Abe Yeddis, would be proud to know we're carrying on his vision of serving distributors and their customers alike who want the best source and selection of caps, bags, bandanas and more with the deepest inventory and continued commitment to quality, value and service.

Best for success in 2023,

Dan Saferstein
President Sportsman Cap & Bag
913-541-0901, ext. 325
dan@headwear.com
www.sportsmancaps.com
Company Timeline
Sportsman Cap & Bag is a family-owned and operated company with more than 80 consecutive years of experience in the cap industry. The strong foundation built over the past seven decades, combined with a unique distribution network, technological advancements and emerging opportunities to cross boundaries in the industry, yields a company with unlimited growth potential.
1936
Beginning
Father-Son team of Jacob and Abe Yeddis starts Pioneer Cap Company at 9th and Central in the Garment district of Downtown Kansas City, Missouri

1948 - 1956
Expansion
Pioneer Cap grows to include five factories located in small towns in Kansas, Missouri and Iowa.

1968
Pioneer becomes one of America's first cap importers.

1970
Pioneer Cap is sold.

1978
Full-time Importer
Abe Yeddis starts Promotional Headwear Incorporated (PHI), a cap importer.

1986 - 2000
Family Business
Dan Saferstein, Abe's grandson, joins PHI in the straw hat division. Jon Saferstein, Abe's grandson, expands business with distributorship in Los Angeles, California known as Merge Left. Caroline Saferstein, Dan's wife, joins PHI as Marketing Manager. Phil Saferstein, Abe's grandson, joins Merge Left.



Brand Launch
Promotional Headwear launches the Sportsman brand.

Distribution
Master Supplier Network is created.

Product Development
Fashion-forward Flexfit line is added to the product line.


Company
PHI changes its name to Sportsman Cap Network.


2003
Abe Yeddis, our founder, passes away.

2006
Corporate offices move to Shawnee, Kansas.
Dog Daze Headwear is welcomed as part of the Sportsman Cap Network family.

2010
Product Development
Golf headwear brand Adidas is added to the Sportsman Cap Network's product line.

Sportsman brand adds Performance styles.

2011
Same-day shipping

Factory Direct Pricing

2012
Sportsman Cap Network celebrates its 75th anniversary.

Mega Cap and HYP are the newest additions to the product line.

Sportsman Cap Network introduces a new bag line.

Sportsman Cap Network changes its name to Sportsman Cap & Bag

2019
Corporate offices move to Lenexa, Kansas, increasing the warehouse capacity.
Our Founder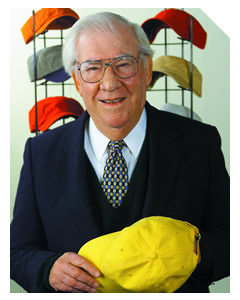 A Pioneer Who Used His Head to Shape an Industry
As an entrepreneur, importer, manufacturer and distributor, Abe Yeddis helped guide the headwear industry through many impressive milestones. But success didn't spring from good fortune. Rather it came as the result of unusual foresight, a determined spirit and an innovative mind.

His career began in 1935 at the height of the Great Depression when the cap factory in Kansas City where his father was floor manager closed down. The young Yeddis, undaunted by the failure, negotiated a purchase price from the owner and took over the business. With that bold move, Pioneer Cap Company was born.

Yeddis knew to turn things around he would have to develop a new way of doing business. Using his head to stay at the forefront of the industry trends, he began expanding into small town factories across Missouri and Iowa in the late 1940s and 50s. In an unprecedented move, he traveled to Japan and Korea in 1969 to research importing options. Yeddis chose to work in Korea with Young An Headwear, becoming the first major importer of Young An caps in a time that importing from Korea was unheard of. This partnership helped Young An grow to eventually become a 200 million dollar headwear company and kept Yeddis at the forefront of the headwear industry.

In 1979, due to tremendous response to products manufactured overseas, the company was restructured as Promotional Headwear International, Inc. In 1986, the company launched the Sportsman brand of headwear. With its leading-edge design at competitive prices, it has proven a success. A few years later, the company adopted the well-known Sportsman brand to become the Sportsman Cap Network.

Always a teacher and an innovator, Yeddis mentored his grandson Dan Saferstein to grow the business. With his grandfather's wisdom, Saferstein began to develop partnerships with other suppliers and created the first and only multi-branded distribution source specializing in headwear. Many lifelong achievements were recognized as Yeddis and Saferstein were selected in 2003 to receive the Heart of America Family Business of the Year award in Kansas City, Missouri, where the legacy began.

Yeddis was one of a rare breed of businessmen, cut from the same cloth as other bold and resolute industry pioneers. At the same time, his accomplishments weren't just limited to business. He was very active in the Jewish Community Center, Catholic Youth Organization, Jewish Federation, Big Brothers/Big Sisters, Oakwood Country Club, Temple B-nai Jehudah, and other social, charitable and civic organizations, locally.

At 87, Yeddis still came to the office every day with the same drive and ambition he had in 1935. "Abe is my reason for getting into the headwear business," said Dan Saferstein, Sportsman Cap Network president and Yeddis' grandson. "His six decades of experience are my inspiration to continue and lead the Sportsman Cap Network and ensure the future is as bright as the past has been."